Harpsichords Available For Sale
SEVENTEENTH CENTURY STYLE GERMAN SINGLE & PEDAL CLAVICYTHERIUM
BOTH SOLD
78" long, 36" wide, compass: GG-d3, transposing: A415/440, 2x8', all brass stringing, pedal board clavicytherium is 34" wide, 83" tall, 14" deep, compass C-d', not transposing, 2x8', all brass stringing, music desk and padded covers for cases, pedal board and stand. Available individually: German single with 3 screw-in legs and bottom apron (not shown): $15,000. Pedal board clavicytherium with trestle stand and bench: $15,000.
Download Sound Sample of the harpsichord only
---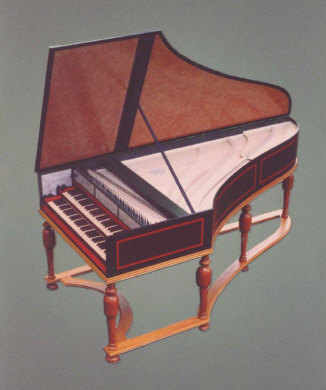 THEORBENFLÜGEL DOUBLE - Price: $12,000.00
Made in 2001 and in excellent condition. 83" long, 40" wide, compass: FF-g3, transposing: A392/415/440, 4 choirs of lute strings: Lower manual: 1x8', 1x4'(top half only), Upper manual: 1x8', 1x16'(lowest two octaves at 8' pitch), buff stop, harfenzuge stop, French shove coupler, plastic jacks, bird's-eye maple keytops, music desk and padded cover.
---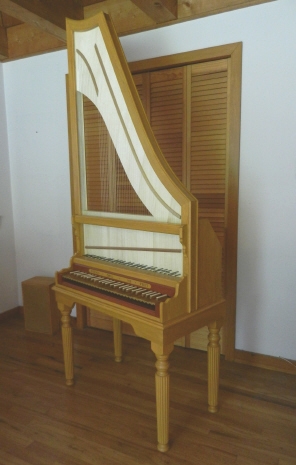 GUT-STRUNG CLAVICYTHERIUM - $15,000.00
Semi-open lyre with two soundboards, synthetic gut strings, 35" wide, 19" deep, stands 7'1" tall, 5'2" transport length, weight without legs: 82 lbs, compass: AA-d3 (54 notes, BB tuned to GG) 6.25" octave span, Brown Mallee burl key naturals with casein ivory sharp tops, not transposing, 1x8', music rack. This is the loudest clavicytherium suitable for continuo or solo on stage.