Harpsichords Available For Sale
SEVENTEENTH CENTURY STYLE GERMAN SINGLE & PEDAL CLAVICYTHERIUM - (Price $35,000.00)
78" long, 36" wide, compass: GG-d3, transposing: A415/440, 2x8', all brass stringing, pedal board clavicytherium is 34" wide, 83" tall, 14" deep, compass C-d', not transposing, 2x8', all brass stringing, music desk and padded covers for cases, pedal board and stand. Available individually: German single with 3 screw-in legs and bottom apron (not shown): $20,000. Pedal board clavicytherium with trestle stand and bench: $15,000.
---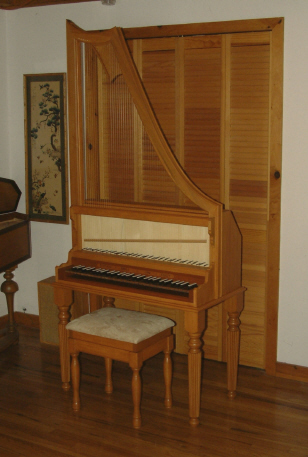 GUT-STRUNG CLAVICYTHERIUM - Price $11,000.00
Upright open lyre with synthetic gut strings, 36" wide, 19" deep, stands 81" tall, 58" transport length, weight: 66 pounds, compass: GG-d3, not transposing, 1x8, casein tortoiseshell & casein ivory keys, music rack, 4 turned legs, bench.
---